Some Thoughts on a Mission to Navajoland
Leonard Presberg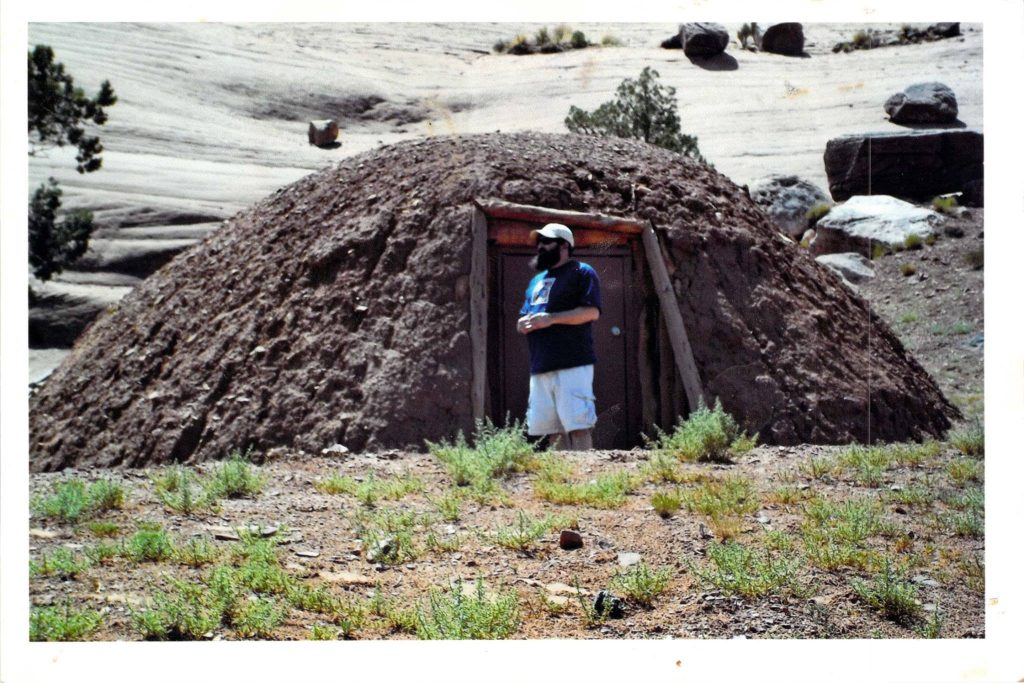 Last month I participated in a mission trip to St. Christopher's Mission in Navajoland. For those of you that know me, the idea of me going on an Episcopal Mission Trip may sound a little strange. For those of you who don't know me, let's just say that I'm not Episcopalian.
So why did I go?
We went to to run an Art and Music Camp for Navajo children. Working with children has always been my passion so I was fascinated by this opportunity to serve. I wanted to meet and work with the Navajo (Dine) children.
By participating in this mission we were able to see how they live and how we could help. We don't think of people in this country living without running water. Having to bring every container they can to the pump at the church for fresh water to drink and wash with. We here in Fayette County have much to be thankful for.
The true work of this mission, however, was Relationships. We went to form Relationships with the children and their community. We went to form Relationships with each other. And we went to form Relationships with what most people describe as God. Because having Relationships brings health and happiness to people's lives.
Relationships are things that can transcend difference. Whether that difference is racial, political, or religious.
From the time I was appointed to the School Board I have been attacked by people who feel that they can't trust someone who doesn't share their faith. That they can't be adequately represented on the school board by someone who has different religious beliefs. These attacks have been both public and private, written, posted and spoken. From anonymous cowards to elected officials.
But what worried people the most is that I won't publicly label what my beliefs are. And because they weren't sure of what to call my faith they were sure I was going to cause future harm.
Which is odd to me because faith and belief are so much more than a label. I don't think it would be fair to assume that the fourteen other individuals I traveled to Utah with, from their three different churches in two different states, all share the identical beliefs even though they all labeled their religion the same way. And I know that, even in Fayette County, there are countless different congregations of wide ranging beliefs along with many individuals that belong to no congregation.
Every morning we would gather for a sunrise service. While I sat through most of the service quietly and politely, I always looked forward to the closing. We would move through the group making sure we shared an embrace and the closing message with each and everyone: "Peace be with you."
Going on this trip once again proved to me that you can have strong real relationships with people of other faiths. We spent our time focused on our similarities rather than our differences. When we encountered our differences in faith we were respectful and polite to each other. But mostly we shared laughter over stories of our children and our lives. I made life-long friendships on this mission trip.
My family and I are often made to feel uncomfortable in the place that we live. Sometimes by well meaning people who don't realize, but sometimes by people who should know better. But I know that not only is it possible to have real relationships with people who don't share your faith, it is something that we should all strive to do. That is what I try to do and teach everyday.
Regardless of faith, political party, skin color, sexual orientation, socio economic status, language spoken or any other way you want  to categorize people, we are all neighbors. Everyone, regardless of category, always deserves to be treated with love, respect, forgiveness, and politeness.
I am neighbors with many good moral people who view the world differently. It is only by having Relationships with them that I can try to understand their positions and hope to represent them well.
May Peace be with you all.